Contact centre features and uptime help company thrive.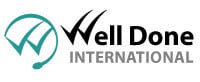 In the contact centre environment, the performance of a business' phone system determines not only client satisfaction, but can also impact how consumers perceive the reliability of the wider company.
Historically, line quality and percentage uptime were the two key attributes to look for when selecting a communications solution. However, now decision makers are increasingly becoming more aware of how technology can improve their customer support processes. Norm Potter understands the demands of the contact centre inside out. As managing director of Well Done International, an industry leading Australian contact centre with answering facilities in New South Wales, Victoria, South Australia and the Philippines. Mr Potter recognised that the flexibility of a hosted private branch exchange (PBX) would ultimately enable his company to provide greater service. He has been using Fonality solutions since 2006, and currently has PBX servers in Well Done International's Sydney and Melbourne data centres, which back each other up in real time.