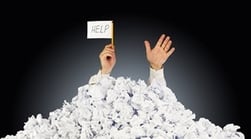 Life in a call centre isn't always easy, as any manager or employee who works in the industry can attest to.
Despite a trend towards using tutorial videos and online forums as a means of support, call centres remain an important cornerstone of a company's customer service model. Knowing that help is just a phone call away fosters trust in a product and can ultimately influence where customers choose to spend their money.
Maintaining an efficient call centre is essential, but a number of issues plague managers. Check out these three challenges that all call centres face and find out what you can do to resolve them.
Resource management
Naturally, the primary focus for a call centre is to provide quality customer service. This essentially means having enough employees on the phones to deal with requests within an acceptable timeframe.
The challenge, therefore, lies in identifying the peaks and troughs of inbound call volume and assigning workers accordingly. New business phone systems are capable of recording a variety of different metrics that reveal call patterns, allowing you to more efficiently allocate your resources and stay on top of customer requests.
Worker retention
Call centres are notorious for their high turnover. A combination of demanding customers, a never-ending flow of work and stringent KPIs mean that only those with the thickest skins are likely to stick it out. Due to the low retention rate, call centre workforces are often largely comprised of people who are new to the company and who don't have a good grasp of the products they are supporting.
While there is no overnight solution to this issue, there are a number of things you can do to boost retention rates. Rework your hiring process to better filter out unsuitable candidate. Cultivate a more attractive office environment by offering flexible work options. A modern VoIP phone system, for example, allows employees to work from home while allowing them to connect with prospects.
Employee career advancement
The hierarchy of a call centre might typically consist of a manager, a team leader, and below them, a sea of call operators. By nature, this flat business structure offers little in the way of career development, which can demote talented employees and cause them to pursue opportunities elsewhere.
This is a tricky issue to fix without overhauling the entire company, but it's important to recognise exceptional workers and help them advance within the company.