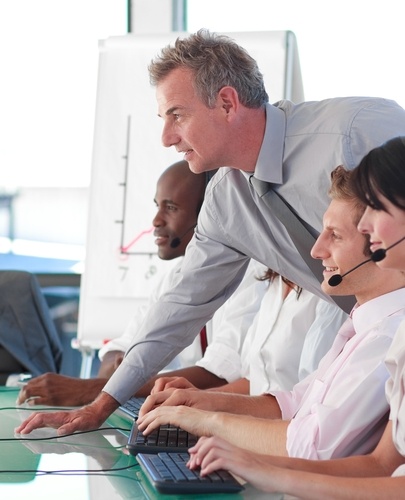 What are the benefits of linking your sales CRM system with a UC platform?
Consider this dream scenario: a customer contacts your business and a customer service representative answers. At their fingertips, they have the entire history of this customer's interaction with your business, including:
Purchase history.
Overdue bills.
Records of past complaints and refunds.
Imagine how much better prepared your customer agent is to handle whatever the caller has to say when armed with this information?
This dream isn't fanciful though - it's achievable when you integrate business unified communications (UC) tools with customer relationship management (CRM) software. Here are three reasons you should link communications to your sales CRM system.
Cloud-based integration means your sales system can be linked to your business phones.
1. You can identify problematic customers in advance
Because our UC platform is computer-based, it's far easier to read an incoming phone number and match it to past customer records. This enables your customer service teams to prepare in advance for contact from dissatisfied customers and prepare ways to handle their complaint. Gathering more information from your sales CRM platform is key to addressing pressing customer concerns.
Nearly two in three small businesses nationwide encountered late or unpaid invoices in 2017.
2. You can more easily follow up on unpaid bills
Research from Xero Australia shows nearly two in three small businesses nationwide encountered late or unpaid invoices in 2017. If organisations were able to better track customers and suppliers through an integrated UC-sales CRM system, all record of payment history and communications could be instantly accessible and centrally logged for compliance recording.
3. Target sales to interested buyers
Any data that helps to improve sales is worth investing in. Improving how your sales CRM platform works requires integrating records of customer interactions with your business, including phone conversations, emails and other important moments. With UC tools, your sales team can instantly access this information, from a central office or on the road, to better target their sales strategy and offerings to individual customers.
Fonality's Salesforce integration
Salesforce, the most widely used CRM platform in the world, is designed to give businesses a better overview of their sales process. With this in mind, we designed our CRM Link unified communications solution to enhance the Salesforce experience.
Integrating business communications into the sales environment helps businesses to excel at improving agent productivity and better the customer experience. Users can enjoy a number of features, including:
Click-to-dial functionality.
An integrated dial pad.
Automated call logging with notes.
Browser-based application with no extra software.
Support for Windows and Mac operating systems.
For more information on improving your sales CRM platform, contact Fonality AU today.