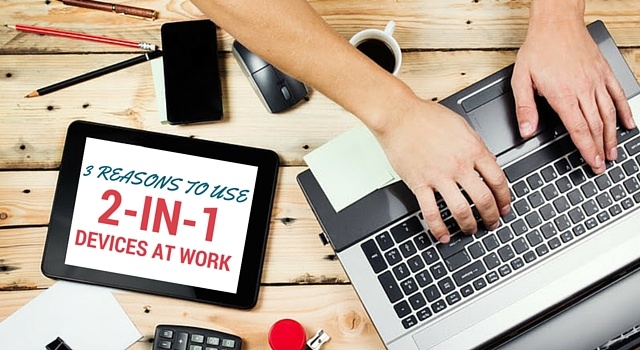 Over the last few years, we've seen mobility rapidly grow to become an integral part of both small and big businesses across Australia. The flexible nature of mobile workstations, combined with versatile communication platforms such as modern VoIP phone systems, allows enterprises in a variety of industries to connect with customers more effectively, regardless of where either party is located.
There's a number of hardware manufacturers riding the mobile wave, eager to find the perfect solution for consumers and businesses alike. One particularly innovative product that has emerged is the 2-in-1 device.
Half laptop and half tablet, these hybrid machines are as powerful as they are mobile. In the past, they were plagued with poor battery life and lacklustre performance, but as companies such as Microsoft, HP and Lenovo continue to refine their offerings, 2-in1s are quickly becoming a force to be reckoned with.
Check out these three key reasons to use a 2-in-1 device:
1. Versatile
Featuring a sleek design and a lightweight construct, 2-in-1 devices encapsulate the very essence of mobility. The Surface Pro 3 - Microsoft's flagship model - for example, weighs in at a mere 800 grams. Gone are the days of lugging a bulky laptop to and from the office - a 2-in-1allows you to type an email at your desk, detach the keyboard and use the tablet for a presentation and reconfigure it as a laptop when meeting prospects.
2. Cost effective
In any industry, efficiency is the name of the game. While a business may benefit from equipping its employees with both a laptop and a tablet, the outlay of such a purchase is often beyond the means of many SMEs. A 2-in-1 device will typically cost substantially less than the sum of both individual devices, allowing businesses to reap the benefits of a fully armed mobile workforce without breaking the bank.
3. Powerful
While tablets are great for watching videos and playing simple games, they suffer from a lack of power. Equipped with the latest processing chips and significantly more RAM, 2-in-1 devices are capable of running even the most demanding software and seamlessly integrating with your office phone system. Plus, between running full operating systems and integrating mobile applications of the programs you already use, you've got your office on the go.
Companies across Australia are continuing to come to terms with a mobile workforce, and 2-in-1devices might prove to be the solution that businesses need.