Having the right infrastructure in place is essential for both the health of a company and a country's overall economic growth.
Looking at the former, laying the proper framework in any enterprise is an integral part of conducting business. Whether this means investing in a business phone system or establishing a standard sales method, these processes act as tools that allow employees to get their work done efficiently.
The NBN rollout promises greater connectivity and some great benefits for SMES.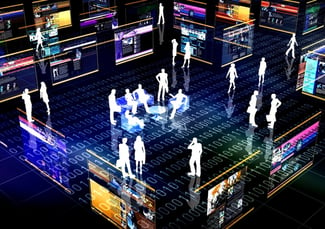 The NBN provides speeds of up to 100 megabits per second.
Similarly, if we look at things on a national scale, developing a strong infrastructure is vital for the success of a country. While the staple resources of yesteryear's economy might have consisted of good roads, reliable power and clean water, these basic commodities are no longer enough. In today's connected world, an expanding country also needs a reliable telecommunications network.
To meet this final need, in 2009 the Australian government announced its plans to introduce a national broadband network (NBN) to homes and businesses across the country. This will essentially bring Australia into the 21st century by providing internet speeds of up to 100 megabits per second. Priced at $43 billion, it is the single most expensive infrastructure project ever proposed in Australia.
While the rollout is still very much a work in progress (it reached a million premises in June 2015), it presents an exciting opportunity for businesses all across the country. So, how will SMEs benefit from the NBN?
Stay connected
Improved internet access naturally means greater connectivity. For example, a flexible VoIP phone system will allow you to stay in touch with customers and employees, regardless of where you're located. Also, enhanced broadband will be able to support business resources like cloud storage and online tools that your employees use to stay productive, while simultaneously providing more customers a better experience when researching and contacting your business.
This is particularly good news for both businesses and customers located in rural areas, who have traditionally suffered from slow internet speeds and poor communication options.
Work from home
While some businesses already have policies in place that allow employees to work from home, many will have been unable to do so due to slow internet connections.
The speed of the NBN is leagues above the conventional copper-based ADSL lines, making connectivity more reliable for employees outside of the office, especially those who work through virtual private networks to access information and resources available on your business' local network. For employees whose work is primarily cloud-based, the new NBN will provide the bandwidth that allows them to effortlessly send and receive files of any size.
Save time
While the vastly improved speeds of the NBN cuts down the amount of time it takes employees to download and upload files, the real time saver lies in the communication capabilities your business can (and should) be using.
For example, faster connectivity makes tools such as video conferencing a more practical answer over travelling to and from offices around the country. Modern unified communications systems make it easy for employees to stay connected with each other as well as with customers and prospects. And in the event that your office needs to be closed, having access to all the day-to-day operations can keep your business up and running.
The NBN is likely to have a substantial impact on the Australian economy as it reaches more SMEs. How will you leverage this new infrastructure to boost your company's growth?